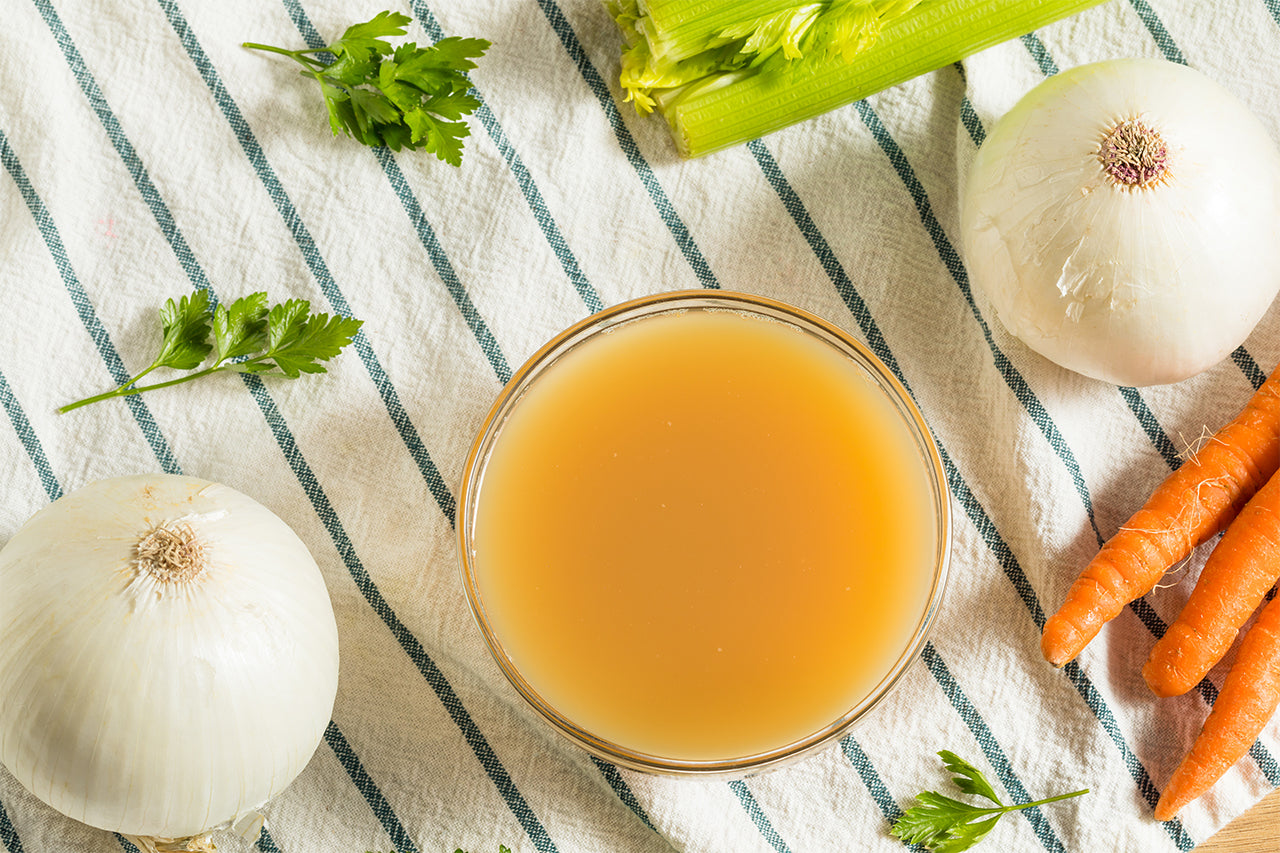 Settling into winter means learning how to take proper care of yourself.  Since most of us want to keep on track with our healthy lifestyle, mostly enjoyed through proper diet and exercise, wintertime brings a few necessary changes and some great "hacks" that will help us keep on track with all that we want to achieve.  Consider this your go-to guide on one of the most popular options that will be just right for when you want to enjoy top health with a delicious and rewarding flavor.
How does bone broth make you feel well?
There are many reasons why you still hear people talking wholeheartedly about the health benefits of collagen protein broth. There's a lot to love about this age-old stovetop creation, from simple perks to long-term health benefits.  Consider this your introduction to just what this humble and seemingly "bland" bone broth can do!
One of the main benefits is that bone broth just makes you feel good.  Physically, mentally, and emotionally. It all stems from the fact that it addresses a lot of the core systems in our body which, in turn, addresses the core functions (more on that below).  Bone broth makes us feel well because it's got protein, collagen, amino acid, vitamins, minerals, and more. It's one of the healthiest things that you can eat!  So, the question is: why wouldn't it make you feel good?
What are the top health benefits of taking bone broth every day?
There are quite a few widespread health benefits, as introduced above, to enjoy daily, particularly on those harsh winter days. Some of the top ones include:
1. It's a great source of micronutrients
Micronutrients are those tiny little nutrients that we often miss in our other food sources. While they might be tiny, they are essential for our general nutrition.  The broth is an excellent source of those.

One of the best things about this part of the broth recipe itself is that it is the perfect excuse to use this power in a recipe or even just straight mixed up with water.  It helps to ensure that you are getting the nutrients you need even on a "bad diet day," and it delivers them in a delicious, quick stop drink!
2. It's a popular, satiating snack
It seems strange that liquid could be a snack, right? However, the high protein level in this will make a fantastic choice between meals to help get you through to your next meal without giving in to the other bad and unhealthy snacks that always seem so tempting mid-afternoon.

If digestion is a concern, then the liquid form will offer a lot more relief as a snack, too. It won't sit heavy in the stomach or take a while to digest. It keeps you feeling full until your next meal but still keeps you comfortable when mealtime does roll around!  Plus, a little extra hydration never hurt anyone, anyway.
3. It's a helpful immunity booster
Wintertime is the prime time for the flu, the common cold, and even concerns with COVID-19, as we all spend more and more time indoors. Collagen protein broth naturally boosts your immunity and helps you get those defenses higher to keep yourself healthy longer. 
4. It promotes stronger and healthier skin
You know how everyone talks about collagen for skincare? You'll get collagen in broth, too, thanks to the slow boiling of the beef bones. This will help you enjoy strong, elastic, healthy skin that may even rival those serums and cleansers that you've tried in the past!
5. Supports muscle health
Building muscle mass is essential when looking to stay in good health and enjoy reliable strength, too. Bone broth will support muscle growth and retention thanks to its amino acid content. This is why you hear so many professional athletes talking about it.
Also Read: Ultimate Guide to Buy Collagen Bone Broth Powder
Also Read: Top 11 Benefits of Taking Collagen Supplements
How to enjoy bone broth if I don't like bone broth?
Sounds strange, perhaps, but it's an important question!  If you can't stand the taste of the classic bone broth, what are you supposed to do? Firstly, you aren't alone. Many don't enjoy classic bone broth, making it hard to enjoy even as a base for something else.
This is precisely why you can get many different flavors of bone broth. For relaxation, lavender and chamomile is a great one. If you want some spice, curcumin chili is a popular choice. For something understated and simple, seasonal herbs flavor is well worth trying.  Regardless of what you prefer most for your tastebuds, there's a little bit of something for everyone.
Also Read: Cauliflower Frittata Recipe
Also Read: Happy-Gut Active Bread Recipe
What is the healthiest bone broth?
As far as integrity in the broth that you're mixing up, you'll want to go with a choice that relies on lean protein and is free from filler contents. All-natural ingredients will be another plus, too, especially those sourced from New Zealand, since they have a stronger potency compared to those sourced elsewhere in the world. 
Collagen protein broth that uses those ingredients and relies on lean protein and no artificial ingredients will always be your best choice.
Can bone broth help you lose weight?
This broth can be a part of your weight loss routine, yes.  It contains amino acids that are supportive of proper gut health. Poor gut health can lead to poor nutrient absorption and poor digestion, both of which can contribute to excess weight.
Prioritizing gut health helps increase nutrient absorption, getting those much-needed minerals where they need to go. It also helps keep your digestive system working, which will help flush your body out faster and easier. Both of these lead to you shedding excess weight!  Plus, since it helps you build muscle mass, workouts become easier and, dare we say, fun!
While it isn't going to be the "reason" to lose weight, it's certainly a great support. That, combined with the fact that it can help replace unhealthy snacks mentioned above, is another helpful detail.
Does bone broth help with inflammation?
Bone broth promotes a healthy inflammation response in the body, including in those problem joints and with common conditions like asthma or eczema. It will even help manage gut inflammation, which is a common problem for many who don't even know it!
How do I enjoy bone broth?
Flavors aside, as mentioned, the best way to enjoy bone broth, particularly in the wintertime, is hot! Many will have it as soup stock for this reason.  It's sure to warm you up and fill you up after spending time outside in the cold and wet weather. 
However, if you want to enjoy it quickly, you can also mix it like a mug of hot cocoa. Pour in the powder with boiling hot water, stir vigorously until dissolved, and enjoy! You might want to skip the marshmallows and candy cane, though…
Getting the most out of wintertime means being at your healthiest and making sure that we do what we can to always be at the top of our game. A huge part of that is determined by what you use to fuel yourself. Bone broth is an excellent support for helping you to do just that. It turns out that there's a whole lot more to this age-old classic food choice than you thought, right?