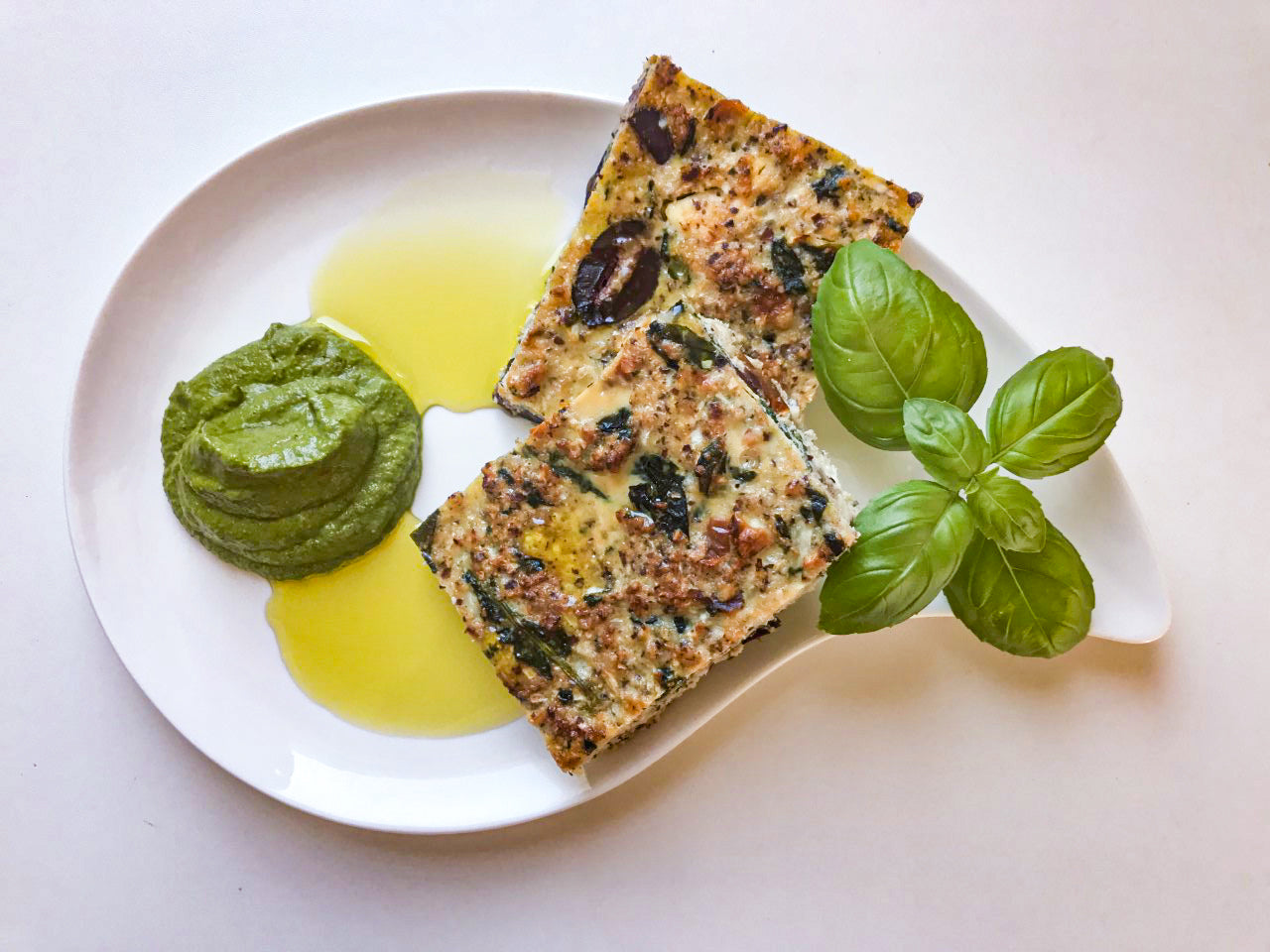 Thanksgiving is right around the corner, and you've got your main courses (turkey or ham and various types of pie) figured out.  The true essentials, of course.  But what about the "accessory" dishes?  The right side dish goes a long way to helping add a little something extra to your Thanksgiving table.  Tired of the traditional choices and looking for something new that you can explore? Consider putting cauliflower to work for you in a delicious frittata.  It's going to be fun to make, a surprising side dish that your guests won't see coming, and loaded with lots of good stuff.
Ingredients

1. 500g Cauliflower

2. 2 Egg whites

3. 5 Whole eggs

4. FREZZOR Sea Salt

5. Pepper

6. 50g Parmesan

7. 200g Spinach leaves (frozen)
8. 200g Grated almonds
9. Optional 3 scoops of FREZZOR Collagen Powder or Bone Broth Powder
10. Optional 200g feta cheese, olives without pit, dried tomatoes.
11. For Seasonings- garlic flakes, chili, spices to taste (oregano, rosemary...)
12. Olive oil
Directions
1. Wash cauliflower, cut into small pieces and chop with food processor "coarse".
2. Using a spoon in a mixing bowl, mix the coarse cauliflower with unbeaten egg whites and eggs.
3. Add salt, pepper, garlic flakes and remaining spices.
4. Add grated almonds, parmesan cheese and spinach to the mixture and mix again.

5. Cut feta cheese into pieces, halve olives, chop dried tomatoes and fold in.
6. Drizzle olive oil on a baking tray lined with baking paper and spread the mixture evenly on it.
7. Bake for 35-40 minutes at 170 degrees.
Once the mixture is golden brown, remove from the oven, drizzle with olive oil if necessary and cut into pieces. This cauliflower frittata will keep for a few days in the refrigerator and freezes very well.
Tip

FREZZOR Super Greens Pesto or FREZZOR Super Greens Guacamole go very well with it.
Also Read: Healthy Manuka Honey Sesame Bar Recipe for this Holiday Season
Also Read: Happy-Gut Active Bread Recipe
Top perks of your new favorite side dish Sounds good, right?  But what does it offer to your table and those guests that enjoy a slice on their plate?  Some of the top perks include:
Extra veggie content: It's no secret that a big dinner like this one is going to be loaded with plenty of treats. This treat is going to kick it up a notch by tasting delicious and offering some extra nutrition through the FREZZOR powder that you add in, as well as the delicious choice of FREZZOR sea salt for added minerals.  It helps you know that you're still protecting your body's nutritional needs even in enjoying the large dinner.
A fun, delicious side: More than just neatly cut pieces, this cauliflower frittata has a fun taste to it that is going to be different from what you're expecting. It'll be a great way to infuse originality into your sit-down meal, and all with the benefit of extra nutrition.
Simple, mindful choice: Instead of simply making a classic dinner on autopilot, make a mindful choice to add spinach and nutrient-rich powders that are going to be a welcome addition to everyone's dinner plate and, most importantly, their appetite!
At first glance, this is anything but traditional.  But when you taste it for yourself, you'll see just how much it adds to the table.  Lightweight, delicious, and loaded with extra nutrients that will help add some healthful choices to your dinner, it'll be your new favorite side for every meal.