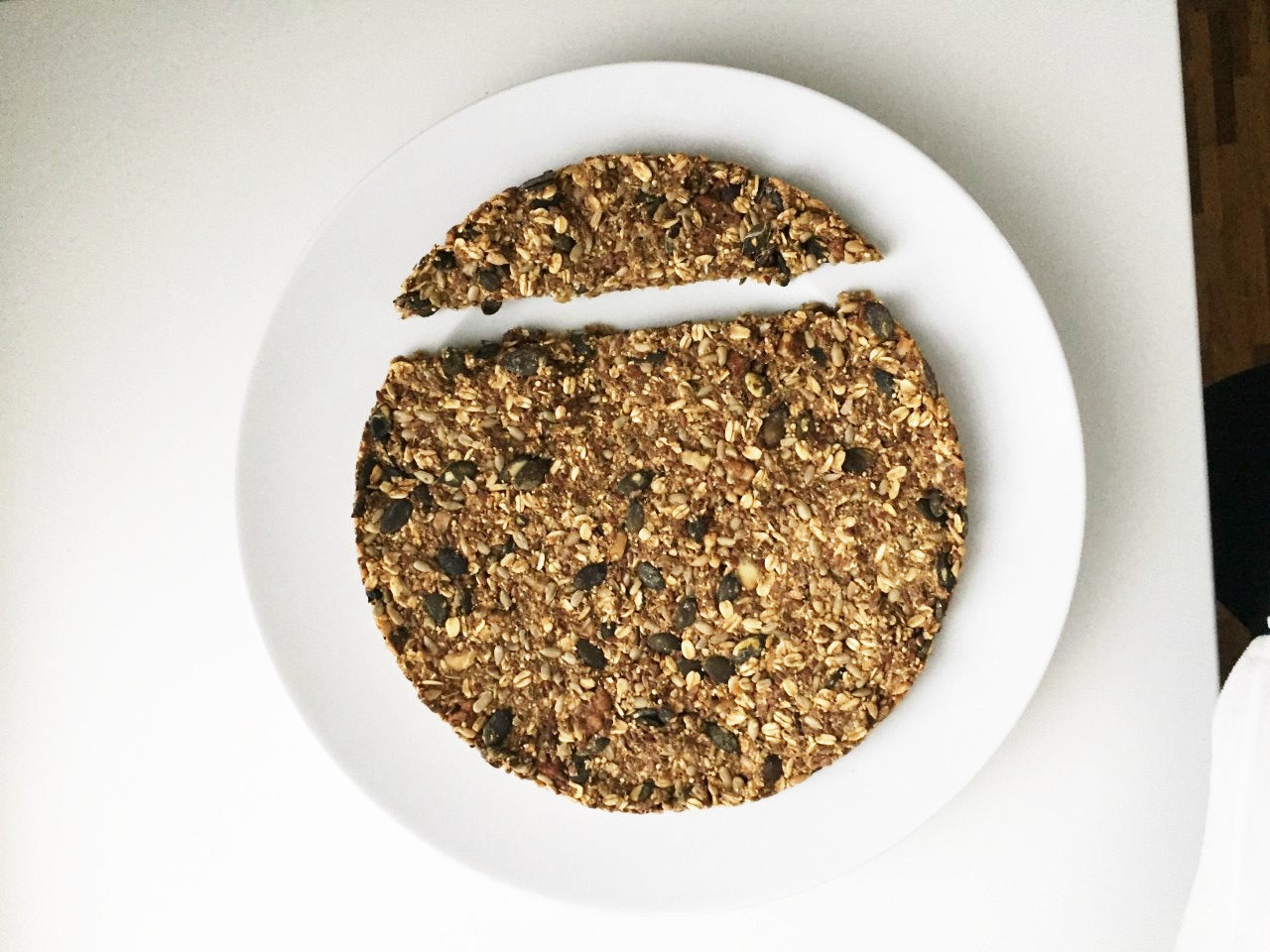 For a simple and fast bread, this satiating and spicy happy-gut active bread is going to be a delicious experiment!  This is gluten-free and vegan, but it is a fiber-rich snack for those that want a "rib sticker" choice.  Delicious and fantastic for aiding in digestion, it'll be an easy go-to when you don't want to compromise.
Ingredients
100 g fine rolled oats
100 g millet flour (grind millet into flour in a blender)
40 g flaxseed (ground)
40 g chia seeds
40 g sunflower seeds
40 g pumpkin seeds
40 g walnuts (coarsely chopped)
40 g sesame seeds
20 g psyllium seeds
2 heaped tablespoons psyllium husks (powder)
200 ml water
2-3 tsp FREZZOR sea salt
3 tbsp. balsamic vinegar, 2 tbsp. apple cider vinegar
Optionally 3 scoops FREZZOR Collagen Powder or Bone Broth Powder
After baking 2 tbsp. olive oil for brushing
Add the following ground spices according to taste: Pepper, ½ tsp anise, ½ tsp cumin, ½ tsp coriander, garlic flakes, chili flakes, etc.
Preparation
1. Preheat the oven to 180° convection. Line a baking sheet with baking paper or baking silicone mat, and place a cake pan, without a bottom in the center.
2. Mix all the ingredients with a spoon, except the olive oil, in a large bowl until well blended. Let sit for a few minutes. If the mixture is too wet, add some millet flour, if it is too dry, add some water.
3. Pour the mixture into the bottomless cake pan and press well and evenly, with a spoon.
4. Bake for 25-30 minutes.
5. Let cool and brush with olive oil. Cut into desired piece shapes.

This bread will keep for a few days in the refrigerator and is also very good frozen or place in the toaster until crispy.
Tips

The ingredients used require a lot of liquid to swell. Therefore, you should drink at least 2 glasses of still water during or after consumption. Remember also... Well chewed is half digested! The intestine-active bread keeps you full for a long time! This bread is free of animal products and gluten, but rich in fiber. It has a positive effect on the digestive tract. The ingredients stimulate intestinal peristalsis, contribute to the natural detoxification of the intestines and support the development of the intestinal mucosa. It tastes spicy and it a MUST HAVE for those who want to eat healthy. If you want to combine it with spreads, you can find some recipes for it on our website under "Christine's Healthy Kitchen".
Also Read: Cauliflower Frittata Recipe