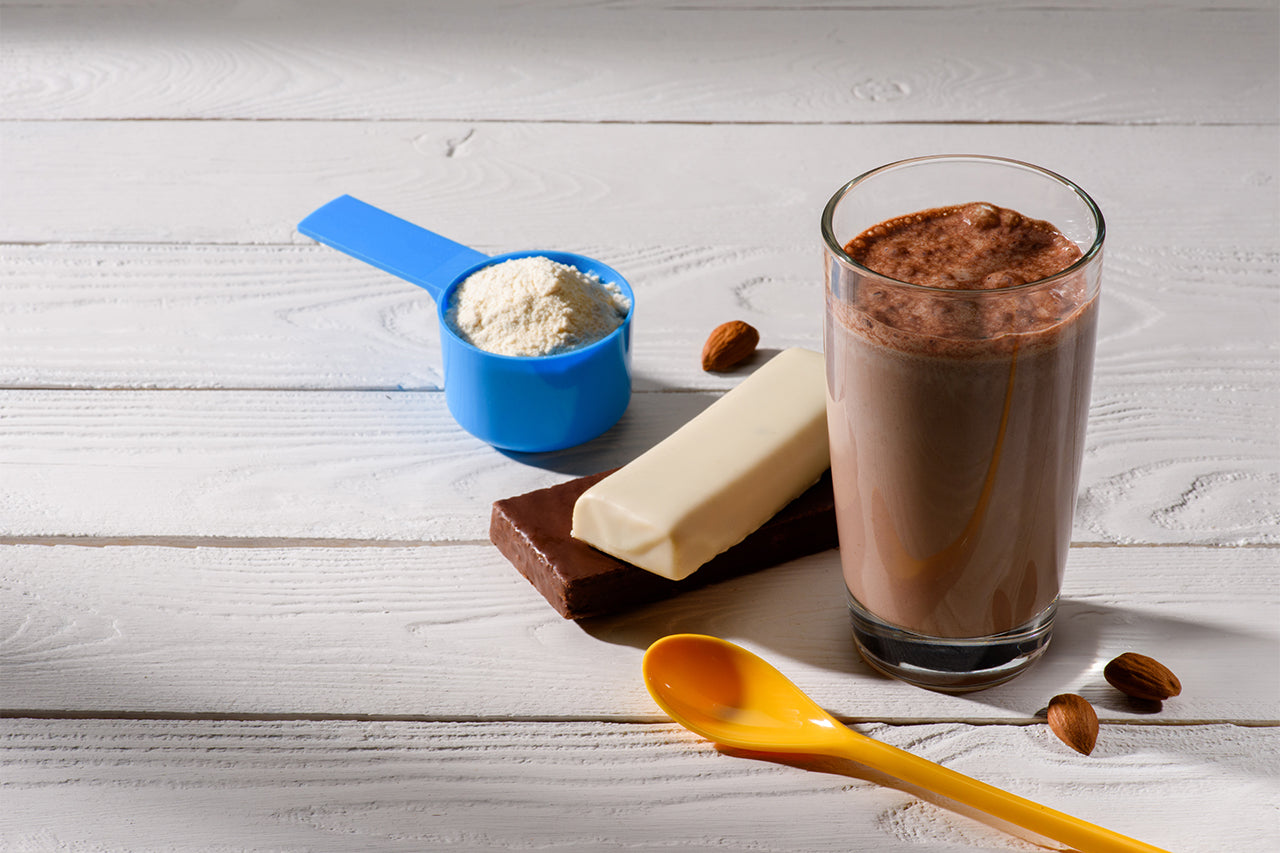 Protein powder is a great option to add to shakes, smoothies, enjoy after a workout, and more.  It's a popular discussion in health circles everywhere.  But what separates the different kinds of protein?  Which one is best for your needs, and why?  How do you know that what you're taking is going to actually give you the benefits that you think it will?  All you need to know about getting "up close and personal" with your preference for whey protein powder is below and waiting for you.
What are the different types of protein (powder)?
There are quite a few types of proteins and protein powders.  The ones that you'll hear about most, especially in the world of supplements, include:
Casein protein
This protein source comes from milk and is a slow-digesting protein that results in more consistent energy delivery, specifically with amino acids being used in muscle.  This is an excellent protein source specifically for those looking to improve their muscle tone and strength for this reason.
Whey protein 
This also comes from milk and is a fast-digesting source with high branched-chain amino acids (BCAA).  This is another protein that focuses on muscle strength.  This kind specifically helps the muscles feel at their best.  It will help with recovery after a strenuous workout and even help develop muscle faster when consumed beforehand.  This is a popular type, meaning that meeting your requirements, for example, grass-fed chocolate whey protein powder, as opposed to traditional farming and/or other flavors, will be easy!
Egg protein
Eggs might be popular breakfast food, but protein powders sourced from eggs are even better.  These are used from the egg whites (yolks are what make you feel satiated) to give you the BCAAs that your body needs.  This is a great alternative source of protein if you struggle with classic options (such as those who are lactose intolerant), but it often doesn't satiate as well as other sources.
Soy protein
For those who follow vegan lifestyles, soy protein is often a popular choice.  It contains the amino acids that you require, which can be challenging.  This is best consumed in small amounts, and it doesn't have the same muscle focus as other kinds of protein.
Hemp protein
This is another vegan source, and it has a well-loved omega-3 content that makes it popular compared to other vegan choices.  While it doesn't have the same potency for amino acids, it is a popular choice for those who struggle to digest other types of protein.
What is live, grass-fed whey protein powder?
If you're wondering what all of those terms mean, you aren't alone.  After all, isn't all protein powder from the same source indeed the same?  Not by a long shot, since sourcing always matters more than the protein source itself!
When you hear something like live grass-fed whey protein powder, here's what you need to know:
Live protein: This means that your protein is coming from actual live cows. The whey protein comes from the milking process, as introduced above.  This isn't made in some lab somewhere.  It comes from real, live cows.  This is immediately better than even the "best" choice grown in a lab!
Grass-fed protein: What the cows eat and live on is just as important to you as it is to them. When they are grass-fed, you know that they aren't getting antibiotics or filler-rich supplemented foods.  These are popular in many farm situations where proximity makes these cows prone to illnesses and diseases.   This natural feed is further constructive when that grass is high with omega-3s like it is in New Zealand, too.  It all means a better nutrient profile for humans!
What are the benefits of grass-fed whey protein powder?
There are many benefits to going with this particular kind of protein powder.  The biggest ones to help you see why it's the right choice include:
Easier workout recovery: Enjoyed either before or after a workout, it will support your recovery time. That achiness and soreness post-workout will be much faster to fade when you are fueling your body with amino acids that will go straight to the muscles!
A boost in nutrition and immunity: More than simply boosting muscles, this also boosts nutrition in its other ingredients and your body's immunity. Since high immunity is one of the most important things we can do to protect ourselves against illnesses like COVID-19, this is now more important than ever.
A complete amino acid profile: As you read about above, not all protein sources have all of your body's required amino acids. Whey protein does have them and in just the right amounts for supplementation.
Supports weight loss: Whey protein is also a trusted choice for weight loss. While it doesn't lose weight for you, it supports muscle mass, offers you energy, and will help your body in its work to shed those excess pounds.
How does it compare to other protein powders?
If you compare these advantages to the other types of proteins discussed above, you can see what makes grass-fed chocolate whey protein powder so popular.  It is a complete source of amino acids, a reliable muscle mass builder, and blends nutrients for a more potent nutritional profile and immunity.  Plus, it's a fast-digesting protein source that will satiate you better than many other types.
How many calories are in whey protein powder?
The best whey protein powder will offer you 110 calories per serving.  This makes it a low-calorie choice when compared to other kinds of smoothie powders, shakes, etc.  You'll also enjoy only 2.1g of carbs per portion and 21.6g of protein. All of this makes for a practical choice for those that are doing everything possible to eat healthily, live a nutrient-rich lifestyle, and enjoy the process of doing both things.
How to use grass-fed whey protein powder effectively
So, now that you understand the true potential in what this protein powder can do for you, the focus will be on just how to use it effectively in your daily life!  Here are some tips to help you out with just that goal.
Use it as your motivation for your workout
Enjoy it as a well-deserved treat after your workout
Have chocolate for breakfast
Use it as a snack when you reach mid-afternoon or morning
Substitute it for a meal when you're in a rush
Add it to your smoothie/shake
Regardless of just how you decide to use this powder in your daily life, you'll be able to find a spot for it.  As you get used to its creamy taste, you'll probably find a particular time of day where you enjoy it more than others.  Whatever your body tells you, go for it!  This is naturally sourced, sustainable, and delicious.