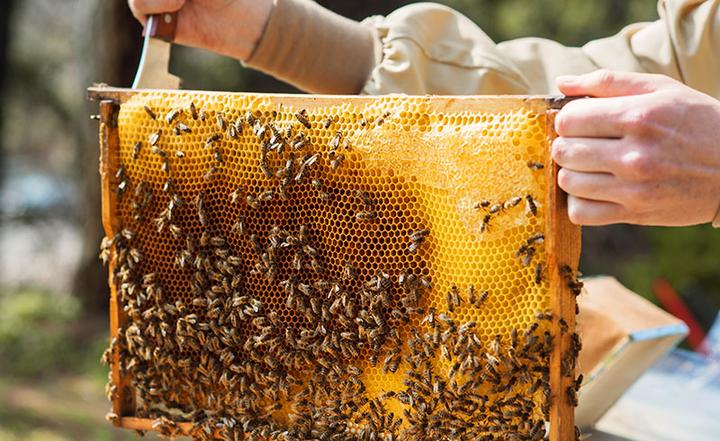 Native to New Zealand, manuka honey holds a special position in their traditional medicine. This earthy-flavored honey is currently all over the internet. Do you know why? Obviously, due to its unparalleled health benefits! Manuka honey has scientifically proven to have excellent wound healing properties along with antimicrobial, antioxidant, anti-inflammatory, anticancer, and several additional health benefits.
However, you might be shocked by how pricey these are when you ultimately get one for yourself. Are these jars of Manuka honey liquid gold or just overpriced? Let's check it out. In this article, let's see why Manuka honey is so expensive.
All about Manuka honey
Manuka honey is a monofloral honey that honeybees produce from the nectar of the Manuka bush, a plant indigenous to New Zealand. Monofloral honey means that the bees are taking the nectar from just one source of flowers, which,in this case, are the Manuka flowers.  Manuka honey is thicker, more flavorful, and darker in color than regular honey. Wondering what Manuka honey tastes like? Its flavor is earthy with hints of sweetness and flowery taste. The following factors are the reason why Manuka honey is so expensive.
Also Read: Get Winter Ready With Manuka Honey to Fight Cold
Also Read: Manuka Honey In The Treatment Of Severe Lung Infections
Reasons why Manuka honey is expensive
1. Firstly, unlike regular table honey or wildflower honey, Manuka honey has a higher concentration of bioactive compounds. It's scientifically proven to have 20 times more natural health-promoting compounds, including specific manuka phytochemicals like methylglyoxal, docosahexaenoic acid, leptosperin, phenolic acids, and several flavonoids, than regular honey. These unique compounds are the main reason for Manuka honey's outstanding health benefits.
2.
Another reason for its high price is that to get pure monofloral Manuka honey, the bees must, on their own, exclusively pollinate Manuka flowers. Now, this is something uncontrollable. If the bees go on pollinating many flowers from other plants, which also includes Manuka flowers, then the Honey is called 'Multifloral Manuka Honey.'
Even if these other plants have some level of healthy goodness, its lower concentration of Manuka nectar makes it nothing compared to monofloral Manuka honey, which has stronger beneficial health properties.
3.
The Manuka bush, which ranges from a small shrub to tall trees,does not grow everywhere. These are very sensitive to climatic changes, soil conditions, human interventions, and pollution. Consequently, these are only found in mountainous and isolated areas of New Zealand, which has a perfect microclimate for the plant. These locations are often very remote, difficult to reach, and even more difficult to set up bee colonies in.
Helicopters are regularly used to set up bee colonies in close proximity to the manuka bush on the alpine tree line to make sure they exclusively pollinate Manuka flowers, producing pure monofloral honey. If these plants could grow anywhere, Manuka honey wouldn't be so expensive and rare. This is another reason why Manuka honey is expensive.
4.
Apart from the location, Manuka honey production is limited due to its brief blooming period. These wild medicinal plants bloom only two to six weeks a year. Yup! The honey for an entire year has to be produced in this short span of time!
The honey bees must pollinate the bush and collect the nectar within 12-20 days to make Manuka honey. Do you know how much the little bees have to work making your healthy nectar? They make approximately 22,700 trips to and fro the Manuka bush to make a single jar of Manuka honey!
5.
After all, this tedious work, what if the produced Manuka honey has fewer natural compounds which are unique to Manuka honey? Yes, every pack of Manuka inflorescence is not as potent to ensure high concentrations of bioactive healing compounds in their nectar.
But don't worry. We have certifications like MGO (Methylglyoxal) that will guarantee the quality. This certification comes from the New Zealand Government's Ministry for Primary Industries, or otherwise known as MPI. They regulate the quality of food products manufactured, sold, imported, and exported in New Zealand. This certification of the Manuka honey by MPI assures that it has passed as genuine certified Manuka honey. MPI can also certify the difference between pure Manuka honey and multifloral Manuka honey. 
After testing, if the honey has above 70 MGO, it's certified as monofloral Manuka honey, and anything below it is certified as multifloral Manuka honey. MGO is something you buy this product for, and the higher its concentration in your honey, the more potent it will be. All the healing, restorative, antioxidant, anti-inflammatory, and antimicrobial properties of Manuka honey are due to its unique compounds, and make sure to get them in high concentrations in your jar. Also, if you want to be sure that you are buying a product that matches the name on the label, then you should buy a product that is actually packed in New Zealand. MPI constantly monitors Manuka honey right up until the sealed container is loaded on a vessel bound for international markets.
Sometimes honey manufacturers overseas will buy their pure manuka honey in bulk and then blend it with cheaper domestic honey and pass it off as the "real deal."Unfortunately, MPI has no control over this practice, and they recommend that the only way to be sure is to purchase a certified product from a licensed brand, which packs and labels their product in New Zealand.      
These are some significant factors that make Manuka honey a high-end food product. Besides being sourced from a very rare plant blooming in highly remote areas for a brief period, it is packed with several natural compounds that can enhance your health.
This elixir is an investment rather than an expense in terms of its health benefits. Are you planning to get one for yourself? Visit here. Comment below!